In the summer of 1980 wannabe disc jockey and entertainer John Lang bought some sound syste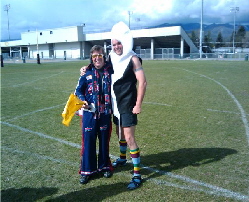 m equipment. With some hard work and a lot of self promotion the Lang's Bang Sound System was soon playing all over Western New York. By the mid 80's the Lang's Bang Sound was working regularly between Death Valley CA, Terre Haute IN, Ashland OH, Geneseo NY, and Oswego NY. Noted for great music, stories and various drinking games there was fun at every event. In the late 1980's John Lang went to work for Home Line Cruises and American Hawaii Cruises working as a disc jockey and entertainer aboard their ships. Lang's Bang Sound System was then kept live by brother Edgar Lang and good friend Orville Harrington.

In 1990 John Lang returned to Lockport to live and meet his

Reffing in Montana with Mongo from the Highwaymen Rugby Team

wife Therese.

In 1991 he made a friendly wager on a Miami Vs Buffalo Bills game and tried
to get on TV. Finding an old white jump suit and painting up an old guitar he made his first appearance as "Elvis" for a Bills game. Since 91 "Elvis" has appeared on nearly every TV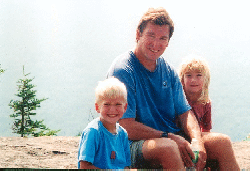 network and has been seen worldwide. "Elvis" has also been featured in the NFL Hall of Fame as well as the Madden Football Game and several commercials.

To book his sound system, now Gothic Hill Entertainment, he is available for any kind of music for any kind of event. John may also serve as an emcee, host or guest speaker for any event.

John Lang does have a day job. He is a Field Ac

Hiking in the Adirondak High Peaks with son Johnathan and daughter Abbey

count Rep. for Western New York for HD Supply. In his spare time he is also a certified referee for the Upstate New York Rugby Society.